國泰航空 (CX) 及全資子公司港龍航空 (KA) 現已成為 Worldspan 最新加入 Rich Content and Branding 的航空公司,提供兩大航空公司的Branded Fares及航班配套服務詳情。

Cathay Pacific (CX) and Dragonair (KA), its wholly-owned subsidiary, are the latest airlines to offer you access to their branded fares through Worldspan.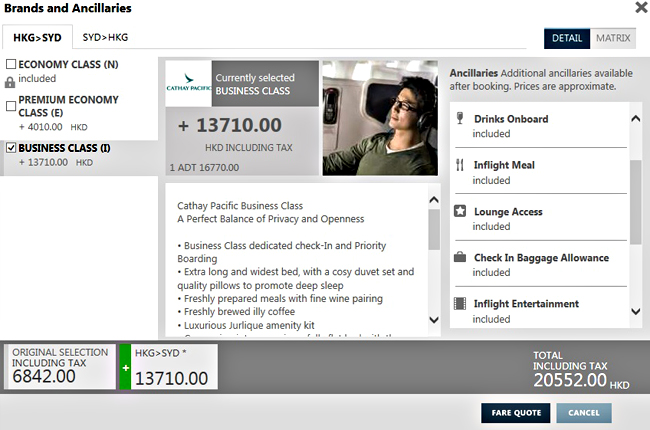 Worldspan

致力革新網上資料瀏覽模式,讓您:
瀏覽所有與國泰及港龍產品相關的相片及介紹,包括經濟客位、特選經濟客位(只限

CX)及
商務客位的票價

按現有機位並排比較各航空品牌的票價

取得各票價已包括的額外服務,例如包括托運行李、優先辦理登機手續及貴賓室使用資格等,協助您進行追加銷售
Worldspan transforms the way you can view air content, allowing you to:
See pictures and descriptions related to all Cathay Pacific and Dragonair products, including Economy, Premium Economy (CX only) and Business Class fares

Compare branded fares side by side, directly from availability

Know what extras, like checked baggage, priority check-in and lounge access are included within each fare, helping upsell opportunities
---
Travelport 一直致力吸納全球最頂級的航空公司,包括亞洲航空、新西蘭航空、中國東方航空及新加坡航空。各大航空公司現已透過 Worldspan 分銷各大品牌的航機機票及自選增值服務,協助您為顧客提供最明智的旅遊選擇,同時配合您的工作流程。
At Travelport, we continue to attract the world's top airlines, including AirAsia, Air New Zealand, China Eastern and Singapore Airlines. They now all distribute their branded fares and ancillaries through Worldspan, helping you provide the perfect travel choice for your customers and within your workflow.